(Petrozavodsk | Russian Federation )
Enjoy Russian Language School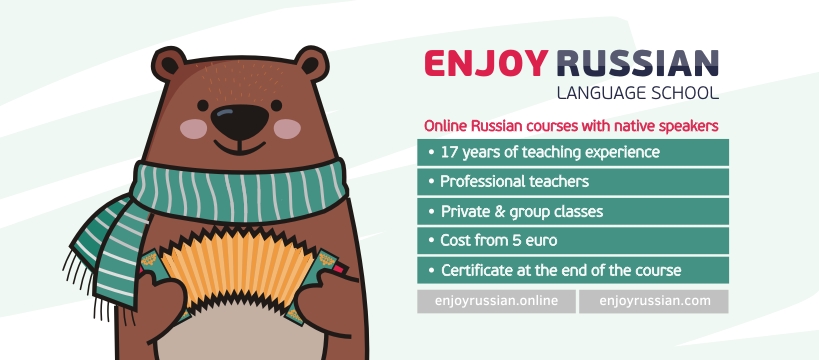 About
Enjoy Russian Language School
If you are into Russian language and looking forward to diving into the culture of this land then you are on the right path! With Enjoy Russian language school you may choose a course depending on your level, preferences and personal goals!

Our school is situated in the North West of Russia, in Petrozavodsk. It is close to St. Petersburg but at the same time, it is not that crowded. More than 1500 students had graduated the school for 14 years and almost all of them mentioned that Petrozavodsk is better for learning Russian because here you can experience actual Russia.

Basically Enjoy Russian language school is famous for 4 main characteristics.
The first one is the language course itself. It's up to you to choose online-course like Russian by Skype or keep in touch, study Russian in-depth on our long term course. You may also pick a semester to spend in Russia. We have special program to learn Russian in summer as well.

Secondly, students can choose to live in a Russian family when in Petrozavodsk. This is the best way to practice that's why we only had a few students out of 1200 who preferred having their own apartment to living in the family. Cordial people usually show you the city and take you to some interesting activities and places. They do care and talk Russian to you all the time! But of course, they switch to English if you have any difficulties at first.

What is more, we have more than 100 Russian volunteers that are here for you 24/7. To go to a post office or to change money you can always ask them! But to be honest they usually break the silence by themselves!

Enjoy Russian language school suggests you the unique and diverse cultural program. Ruskeala canyon, Valaam Island, Kizhi, Kinerma historic village, Belomorsk petroglyphs are places you will see during your stay in Karelia.

Here is what our students say:
Amaury from France, Summer 2019 - Now I can understand more or less a guide in a museum I've even caught the Russian accent! My host family was a real jackpot! I'm very happy that I've been with them the whole stay. We always talked a lot during our lunches and went to the datcha. And I really enjoyed discovering Karelia with its museums, natural spots, monuments, activities like banya!

Guilherme from Brazil, Summer 2019 - The school and the city were great and I had a really good time there. Petrozavodsk is a quiet city with lots of different activities and beautiful nature and its people are very welcoming!




Additional Services
Airport/Station transfer
Facilities for students with disabilities
Student counselling
Visa support
Accommodation
Host family accommodation
Host family accommodation without students of same native language
Own apartment
In hotel/guesthouse
Activities
Architecture
Music
Art history
Cooking
Hiking
Historical sightseeing
Culture Shock presentation
Volunteering
Film
Literature
Sauna / Wellness
Theatre
Cultural tourism (theater, museum, etc.)
History
Local cultural events (festivals, etc.)
Courses
Brochures
Reviews
What students are saying
Sort By:
Get Price