(Granada | Nicaragua )
Casa Xalteva Study Center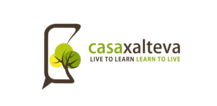 About
Casa Xalteva Study Center
In 1995 Dr. Ken Carpenter and Dr. Gregory Calvert began the NGO. They decided to buy a house to serve as a Spanish school, with the intent of using the income generated by Spanish instruction to fund the program and house kids from the streets, kids from abusive families, and kids with drug problems.
We are a multi-platform non-profit organization, constantly thinking of new, innovative ways to best advance and serve Granada's youth, their families and our surrounding communities. We have shifted our efforts and now specialize in risk prevention versus intervention and rehabilitation. The house that once housed five young boys is now a after and before school safe haven for nearly 30 Nicaraguan girls and boys, the home of Granada's premier Spanish Language School and hub for cultural exchange.

Our goal is to continually equip Nicaragua's underserved youth, their families and communities with the knowledge, values and skills that are essential for personal, communal, and educational development.
We are dedicated to quality language instruction and cultural exchange for our international students. We recognize that through the advancement of linguistic and cultural education we are able to perpetuate and sustain the advancement of our youth in our Children's Program.
We are dedicated to relevant cultural exchange. We understand that leaving the familiar behind and plunging into the unknown fosters a commitment to understanding other people and cultures; and a commitment to learning about the world in a way that books, school assignments, and a professional career can never reveal. Our Homestay Program allows internationals to experience the preceeding as well as support and advance our community by becoming a means of supplemental income for the families they become a part of.
Our goal is to show the beautiful country of Nicaragua to our students from a local's point of view.
Our intensive Spanish language program for international students has been in operation since 1995. We are committed to offering the highest quality of language instruction, educating our students about the culture and society of Nicaragua, building lasting relationships between our students and the people of Nicaragua.

Accommodation
Host family accommodation
Work and Further Studies
Work experience / internship with local companies
Courses
Tailor made Spanish courses
64% 1 Review
This course is for students aged: 16-70
Levels: Advanced, Basic, Intermediate
Class Sizes: One-to-One, Small, 2-5 students
Weekly Hours: General 15-25 hrs/wk
We offer short and long-term intensive Spanish courses for students at all levels. Each class is specifically catered to the wants of our students. You need to brush up medical Spanish for your new profession or learn Spanish over casual conversation about Pop Culture, the choice is yours. At the beginning of each week your professor will find out the things that interest you and plan your curriculum accordingly. With an average of 2 and a maximum of 4 students in each class we can assure a casual and intimate atmosphere.

Classes are Monday-Friday for four hours. You will either have your session in the morning 8AM-12PM (no worries, there's coffee) or in the afternoon, 1PM-5PM. A 10-15 minute break is allotted for each session. During this time many of our students either gather in our rocking chairs to take advantage of the wifi, relax in the hammock and/or enjoy the laughs and company of the children in our program or their fellow Casa Xalteva comrades. Textbooks and materials designed for non-native speakers are provided. Our instructors use an innovative "Spanish only" technique that has students speaking, writing and reading the language from the first day of class.

Group courses for families or universities and one-to-one courses are available too.
Brochures
Reviews
What students are saying
Sort By:
Videos
This school hasn't added any videos
Get Price