(Regensburg | Germany )
Horizonte
Marcar Escola como Favorita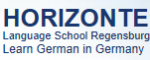 Sobre
Horizonte
Learn German in Regensburg, Germany


Regensburg in snow
Are you looking for an exciting and comprehensive German language course?
Do you want to learn German in Germany?
In small international groups?
With experienced and committed teachers?
In one of the most beautiful cities in Germany: Regensburg/Bavaria?
Close to places like Munich, Nürnberg, Neuschwanstein, Prague, Salzburg, Vienna?
Do you want to learn German in order to find a job in Germany?

You have found what you were looking for!

At HORIZONTE we offer a wide-ranging programme of high quality German language courses all year round. You will learn German with people from all over the world between 17 and 77.

No matter what your profession or academic goal, whether at a beginner level or a teacher of German, you will benefit from more than 25 years of dedicated experience in teaching German.
Alojamento
Hospedagem em famílias
Apartamento próprio
Hotel/pensão
Apartamento para dividir
Student Residence
Cursos
Brochuras
Avaliações
O que estão dizendo os alunos
Classificar por:
Vídeos
Esta escola não adicionou nenhum vídeo
Obter preço