(Perugia | Italy )
Comitato Linguistico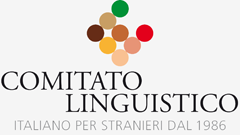 Largo Cacciatori delle Alpi 5, 3rd floor (Corner Piazza Partigiani between the Banca dell'Umbria and the Infotourist point)
,
Pérouse
(
view map
)
À propos
Comitato Linguistico
The COMITATO LINGUISTICO, founded in 1986, is member of ASILS and EDUITALIA, associations of the most renowned Italian teaching institutes with a strict quality criteria. The school is situated in the old city center of Perugia and offers courses exclusively for Italian as a foreign language all year round. Our objective is to teach in a friendly environment with a professional approach. It is very important for us to have personal contact with the students; the teachers and administration are always available regarding information and advice needed.

We offer our members: cultural activities such as film evenings, lectures on interesting topics, discussions; sight-seeing tours and excursions; affordable Italian language courses for all levels in small groups; wine tasting and cookery courses; conversation in "tandem" with Italian students; free internet access (WLAN).

Perugia is the capital city of Umbrie, and has a wealth of history and monuments. It is an important cultural centre, and a favorite place to visit and to stay in for tourists and students.The city is both elegant and international, and is home to one of the oldest universities in the country. Perugia is characterised by its Etruscan walls, its narrow medieval streets and its majestic stately palaces.

With its 170,000 inhabitants, Perugia is the ideal city to stay in because it combines a very high quality of life with a complete range of services. The atmosphere of this small city engages its visitors with a vast choice of cinemas, pizza restaurants, discotheques and pubs which stay open late into the night. The abundance of cultural events is in perfect harmony with the enchanting landscapes, making Perugia one of the most important tourist destinations in the world.
Activités
Littérature
Mode
Histoire de l'art
Musique
Cinéma
Tourisme culturel (théâtre, musées, etc.)
Cuisine
Histoire
Visites de lieux historiques
Art/ peinture
Œnologie/ oenotourisme
Services supplémentaires
Orientation pour étudiants
Transfert aéroport/gare
Logement
En appartement propre
En hôtel/auberge de jeunesse
Appartement partagé
Logement en familles d'accueil
Cours
Brochures
Commentaires
Cette école n'a pas été évaluée
Obtenir le prix