(Freiburg | Germany )
Sprachschule zum Ehrstein Freiburg
Marcar Escola como Favorita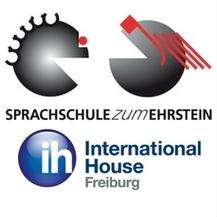 Sobre
Sprachschule zum Ehrstein Freiburg
Welcome to the language school "zum Ehrstein" Freiburg

The language school zum Ehrstein was founded in Freiburg in 1999 and has enjoyed steady growth. The school has two locations in the center of Freiburg; our main classroom facility lies next to a picturesque city square and is only a few steps away from the world-famous Freiburg University.
On average, we offer language instruction every day to between 100 - 150 students from over 40 countries. With its 12 brightly-lit classrooms and 750 sq/m of space, our school offers ample room for language instruction. In addition we offer our students an internet café, a cozy common room and a roof-top terrace garden where they can relax.

Our courses are based on the Common European Framework of Reference for Foreign Languages (CEFR) with levels ranging from A1 - C1. The number of students in our standard courses is limited to a maximum of 12 participants. Our language teachers have long experience with a broad knowledge of the language and the country and make use of a wide range of modern teaching methods. Our instruction emphasizes the communicative and practice-oriented aspects of the language and is geared to meet the demands of students who are highly motivated and have a desire to learn.
In our school we pay special attention to creating a friendly and personable atmosphere. We also offer many additional services to our students such as arranging for private accommodations, an interesting and varied leisure and cultural program, an airport pick-up service, medical insurance, internships in German companies and much more.

Ehrstein is a licensed test center for telc (The European Language Certificates) as well as TestDaF. In addition, we specialize in preparing foreign students for the admission tests (TestDaf, telc C1 Hochschule and DSH) to German universities.

Since February 2016, Ehrstein Language School is member of the worldwide organization of International House language schools and thereby guarantees highest quality standards. Further information can be found here.

Ehrstein has also being working together since 2014 with the German Agency for Work (AZAV) which finances training courses for language students.
Esportes
Escalada
Futebol
Natação
Squash
Esqui
Snowboarding
Passeios de esqui
Serviços adicionais
Translado estação/aeroporto
Aconselhamento ao aluno
Orientação sobre vistos
Alojamento
Hospedagem em famílias
Hospedagem em famílias sem alunos falantes do mesmo idioma nativo
Apartamento para dividir
Student Residence
Trabalho e Estudos
Experiência de trabalho / estágio em empresas locais
Atividades
Eventos esportivos profissionais
Artes / Pintura
Escalada em rocha
Teatro
Eventos no campus
Música
Turismo histórico
Filme
Caminhadas
Dança
Geografia
Eventos culturais locais (festivais etc.)
Turismo cultural (teatro, museu etc.)
Culinária
Cursos
Brochuras
Avaliações
O que estão dizendo os alunos
Classificar por:
Vídeos
Esta escola não adicionou nenhum vídeo
Obter preço