(Barcelona | Spain )
IH Barcelona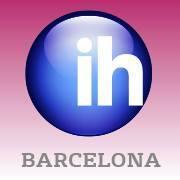 About
IH Barcelona
Quality language teaching in quite possibly the world's most amazing city.
Pick what suits you best from our full range of Spanish courses in Barcelona or try one of our online Spanish courses.
Founded in 1972, IH Barcelona is one of Europe's leading language and teacher training organisations.
More than 3,000 students learnt Spanish with us last year, on the different courses that we offer. As we also have a large out-going programme, (we send more than 200 students to study language courses in different countries each year), we know from experience what sort of issues tend to concern students most, and this helps us to ensure that the students who come to study Spanish with us are given the necessary help, care and attention.

IH Barcelona currently has around 1,200 local people studying English, German or French in the school, so there is plenty of opportunity for our students of Spanish to meet native Spanish speakers, make friends and improve their fluency outside the classroom, in the bar, at social events like our very popular Friday Club, etc.

The quality of our teaching is guaranteed by the fact that we only use fully trained native speakers who have been carefully selected to match the high standards we set ourselves.

Regular courses and seminars held in the school, combined with frequent visits to and from other schools, help to ensure that these standards - and our reputation - are constantly upheld.

International House Spain

Seven of the 23 International House language schools in Spain (IH Barcelona, IH Cadiz, IH Madrid, IH Palma de Mallorca, IH San Sebastian, IH Seville and IH Valencia) specialise in teaching Spanish to students from all over the world.

All seven language schools comprising IH Spain share a common philosophy: we all want to offer courses which exceed our students' expectations, and we all want to maintain high standards of efficiency when dealing with agents.

Working together means we can also offer students the opportunity of combining a Spanish course in one city in Spain with a similar course in a different city.

The Viva Group

Spanish courses in 5 great destinations

IH Barcelona is part of the Viva Group of language schools offering quality Spanish language courses in choice destinations.

Our other centres in Spain are in Mallorca and Tarragona; in the Caribbean we have courses in Mexico; and in South America we run Spanish courses in Colombia.

The International House World Organisation

Founded in 1953, International House World is a network of more than 150 schools around the world, all committed to the highest standards in education and business. A key aim of International House is to raise the standards of language teaching around the world.

One important way in which we do this is through Teacher Training courses for which International House has a world-wide reputation. We train our own (as well as many other schools') teachers to enable language students to learn the language of their choice simply, quickly and efficiently in a rich linguistic and cultural environment.

To ensure that every school maintains the high standards that are specified in the Affiliation Agreement, an external assessor visits each school every two years and conducts a thorough investigation into all aspects of the school's activities. These visits ensure that the unparalleled reputation International House enjoys for the quality of its services is safeguarded.


Additional Services
Airport/Station transfer
Facilities for students with disabilities
Activities
Cultural tourism (theater, museum, etc.)
On campus events
Local cultural events (festivals, etc.)
Courses
Brochures
Reviews
This school hasn't been reviewed
Get Price