(Coventry | England )
Henley College Coventry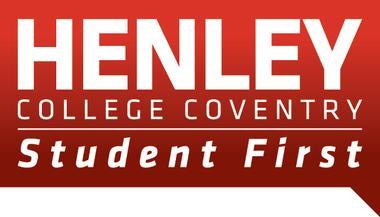 About
Henley College Coventry
Henley College Coventry's mission is "to be an exceptional college that empowers learners with skills that enhance their economic and social well-being and that of their communities"
Henley College Coventry is a vibrant and friendly medium sized FE college that provides education, training and apprenticeships for approximately 5000 part-time and 1600 full-time students.

The College has an excellent reputation for vocational courses in a wide range of areas including engineering, hospitality and catering, health and social care, hair and beauty, computing and sport. Study options are available at all levels up to and including higher education.

The £8m facilities at Henley College Coventry includes a new entrance hall with an exhibition space to display learners' work, a new block with 14 large classrooms and state-of-the-art conference facilities, four new hair and beauty salons, a lively restaurant, a sports and fitness centre,and a Grade One nursery. Henley College Coventry believes in providing the best possible learner experience.
According to the EL Gazette we are one of the top ten Further Education Colleges for English Language teaching in the UK, based on the British Council inspection reports. We welcome learners from all over the world to study and be part of the Henley College Coventry community.
Additional Services
Student counselling
Visa support
Accommodation
Host family accommodation
Own apartment
Shared Apartment
Work and Further Studies
Further academic studies available on campus
Courses
General English
0% 0 Reviews
This course is for students aged: 16-70
Location Type: Town/City , University campus
Class Sizes: Large, 11-20 students
Weekly Hours: General 15-25 hrs/wk
Our English as a Foreign Language (EFL) courses:

Are full-time, 18 hours per week, for general English
Have an optional 3 hours per week (EFL Extra*) to allow learners to study additional material to prepare for the IELTS examination
Run throughout the year including July and August
Offer levels from elementary to advanced
Help learners prepare for examinations such as Cambridge First Certificate and IELTS
In addition to English language, on courses between September and April learners may be able to take advantage of other subjects taught at Henley College Coventry with our English Plus scheme. Learners can choose to substitute up to 4 hours of an EFL course for hours in another subject area such as Business, Media or Tourism. They will need at least a good intermediate level of English to take part in this programme. There is no extra charge for joining these classes but attendance will depend on availability and timetable and cannot be guaranteed.

To ensure you are on the right course you will be asked to take a test before we place you in a class at an appropriate level. The maximum number of students in your class will be 20, however, the average class size is 16.

Our English language programme is made up of the following elements:

Core studies
In this class you will follow a general language improvement course based on a published course book. Your teacher for this lesson is also your personal course tutor and he/she will follow your progress very carefully. You will have regular tutorials when you will discuss your progress and any special needs.

Language activities
In this class you will concentrate on different language activities to support the Core course. This will include vocabulary expansion, pronunciation, grammar, writing and communication skills.

Integrated skills
You will spend two lessons per week improving your skills of listening, speaking, reading and writing. You will do this by examining a theme of general interest, such as Jobs and Employment, Newspapers and the Media and others. You will also learn practical skills, such as preparing a C.V., writing business letters, preparing for an interview and making presentations.

Tutorial
You will spend this session with your personal tutor who will discuss your progress, provide guidence and set targets.

Self Study
Our Learning Hub is open for private study after class each day. You can borrow books and other resources as well use computers.
Brochures
Reviews
This school hasn't been reviewed
Videos
This school hasn't added any videos
Get Price
|
Powered by CoursePricer
Get Price