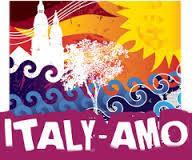 In the ITALY-AMO School we teach our guests the Italian Language. We do it in a special way, constantly interacting with our students, always by their side along the path to learning and mastering this great language. We want to know all our students by name and want them to be looking forward to coming back when they leave.

The school is located in the very heart of Sanremo and it's perfect for experiencing our charmingh seaside resort. It is the right plae for studying in a neighborhood famous for its 100% "Italian Style" aperitif bars and typical restaurants. You can enjoy the sea, walks and outdoors activities all year round, or explore the impressive hinterland made of hamlets, woods and mountains.
---
| | |
| --- | --- |
| This course is for students aged: | 13-70 |
Italian on the road: a great opportunity for those who feel pretty confident with their italian and are ready to improve through conversation. This option is designed for those who are note keen on classrooms but prefer having a chat and a stroll around Sanremo's beautiful town centre or along the stunning pedestrian-cycle path. Students can pick and choose from native teachers, or simply natives, who will show them around speaking EXCLUSIVELY Italian. Sounds too easy? You are wrong! Conversation with the locals may turn out quite challenging indeed! Also here you can chosse between two options:

- Italian for shopping
- Italian art, culture and history
| | |
| --- | --- |
| This course is for students aged: | 13-70 |
| Class Sizes: | One-to-One |
| Levels: | Advanced, Intermediate, Basic |
One to one classes: Each session last 60 minutes, and you can book just as little as one hour if you wish. Special rates applied to packages of minimum 10 hours. -the individual option caters for the highest degree of customisation as the teacher provides each single student with advice on the best learning path for achieving the chosen language goal. You can choose between the two options:

Grammar:for those who whant to focus or clarify some grammatical topics that they find difficult, or to face new subject. It is also possible to book a "one day full immersion" .
Conversation: for those who just want to discuss the latest topics and ti participate in learning activities not focusing on grammar.