(Lausanne | Switzerland )
Eurocentres Lausanne

Avenue Benjamin-Constant 1
,
Lausanne
(
view map
)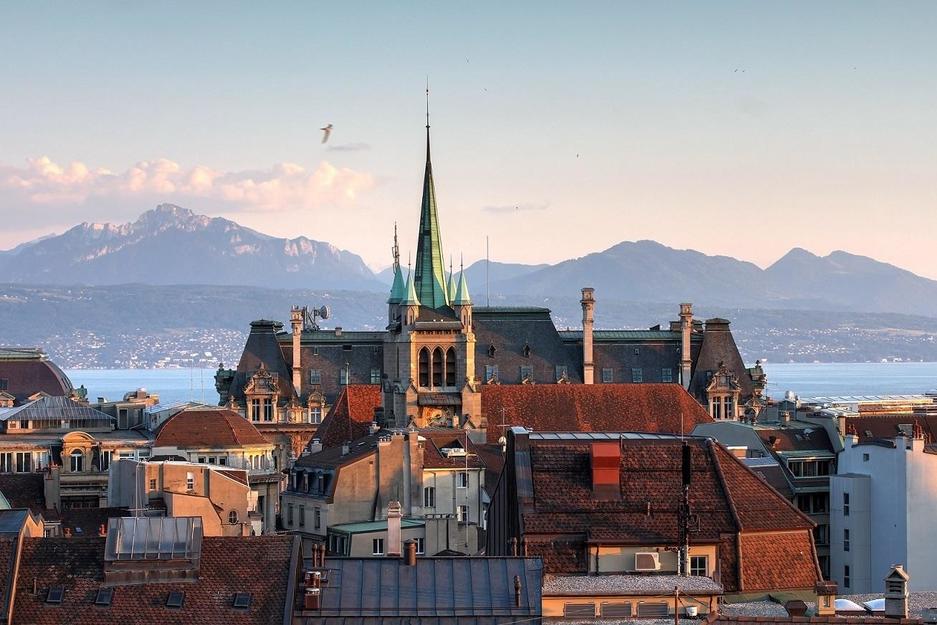 About
Eurocentres Lausanne
The language school in Lausanne is situated right in the centre of the city only a short walk from the train station and the hip Le Flon quarter, heart of the trendy student city in western Switzerland. Learn or improve your French language skills during the day in the modern premises, and discover Lausanne and its surroundings during your free time. Thanks to the regular starting date options and courses directed to different language levels you can quickly and very flexibly turn your decision to learn French here in Lausanne into reality. The Eduqua (Swiss quality label for further education institutions) certification and the fact that all teachers are experts in their field ensure a high level of tuition quality.

You will certainly enjoy your language stay in Lausanne, the city situated on Lake Geneva has lots to offer the whole year round. The range of sporting and cultural events is huge and the old centre, with its boutiques, restaurants and bars, is great for lingering. Additionally, there are a multitude of museums, monuments and buildings to see. Lausanne is lively, but not hectic; trendy, but relaxed. The Olympic spirit exuded by the headquarters of the International Olympic Committee provides international flair, as do the many students from all over the world. 'Ennui' (boredom) is most definitely a term that you can immediately cross off your vocabulary list – here at the language school in Lausanne, you certainly won't be needing it.
Accommodation
Host family accommodation
Courses
General French
0% 0 Reviews
This course is for students aged: 16-70
Class Sizes: Large, 11-20 students, Medium, 6-10 students, Small, 2-5 students
Levels: Advanced, Intermediate, Basic
Have you ever wished you were fluent in French but never got around to trying to make it happen? If so, you are not alone, but if you really want to learn a life skill and become fluent in one of the world's most widely spoken languages, we can help you achieve that in a very enjoyable way. Our French General Language Skills courses are designed to give you a solid foundation in this language and to provide you with all the tools you need to make real progress. Learning French with us is a great investment as you will benefit from having a recognised qualification, better career prospects, and the possibility of studying or living abroad. Plus you'll become more confident in your ability to learn, achieve your goals, and interact with others. Sounds like a deal? Then join the thousands of students who have decided to go on a learning adventure and book yourself onto a French course.
Business French
0% 0 Reviews
This course is for students aged: 16-70
Class Sizes: Large, 11-20 students, Medium, 6-10 students, Small, 2-5 students
Levels: Intermediate
Business French is different from everyday French in many subtle ways. C'est le ton qui fait la musique. If you currently, or will in the future, have contact with French speaking business partners, a course in business French is the right prelude so that you don't sound out of tune. The programme includes the entire spectrum of language skills: vocabulary, discussions, case studies, roleplay, specific formulations and practices will all help you hit the right note whatever the situation, whatever the document. The morning sessions focus on your general language skills and the afternoons are dedicated to business-specific features.

Attendance at one of our specialist business French courses ensures you master the perfect instrument to play in today's competitive business world. You will improve your French communication skills for meetings, negotiations, presentations, telephone discussions, and for writing emails, letters and reports. Out teaching staff structure the lessons so that they are very hands-on and practice-orientated. This means that you can also include your own requirements, priorities and fields of activity in the tuition. Our business French courses are held in Paris and Lausanne. Tune up harmoniously in our classes for your grand appearance on the Francophone stage.
Brochures
Reviews
This school hasn't been reviewed
Get Price