(Cambridge | England )
Eurocentres Cambridge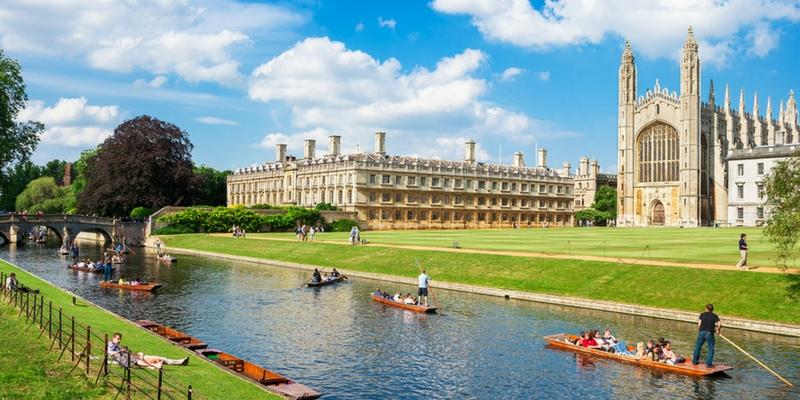 About
Eurocentres Cambridge
Our Cambridge school is five minutes away from the main Cambridge railway station, and is also easily accessible on foot or by bicycle. Located in a busy part of Cambridge, there are plenty of supermarkets, cafes, and restaurants in the area. The historic city centre is an easy 15-minute walk away, where you can find a variety of shops and bars. Your classes will take place in a spacious building, with large, light classrooms and plenty of common areas for studying and socialising.
Facilities available:
Interactive whiteboards
Library and study centre
17 classrooms
Student computer room and printer
Outside terrace
Games Room
Weekly social programme activities
Cafeteria serving breakfast and lunch (Halal and non-Halal options)
Activities
Music
Literature
Film
Dancing
Cultural tourism (theater, museum, etc.)
Theatre
Accommodation
Student Residence
Host family accommodation
Work and Further Studies
Work experience / internship with local companies
Courses
General English
0% 0 Reviews
This course is for students aged: 16-70
Levels: Upper Intermediate, Advanced, Basic, Intermediate
Location Type: Rural/Countryside, Town/City
Class Sizes: Large, 11-20 students, Medium, 6-10 students
Weekly Hours: General 15-25 hrs/wk, Intensive 25+ hrs/wk
General English
Entry level: 2–9/A2–C1
Lessons per week: 20/25/30
Duration: 1–52 weeks

Improve accuracy and fluency, and gain confidence by practising key language skills both in the classroom and online. Classes focus on providing you with natural contexts and real-life opportunities to practice your English. We try to make our classes as relevant as possible to your daily life outside of the classroom, through role-plays, debates, and discussions.

Pre-course test:
Before you arrive at your chosen school, you are given the opportunity to take a pre-entry test online. This means that your school knows which class to place you in, even before your first day. When you arrive, you will speak with the senior teacher who will make a final assessment of your English level and place you in the correct class.

Regular testing and personalised feedback:
Class tests are given to every student at frequent intervals during their course, and your results and progress can be discussed in regular 1-to-1 sessions with your teacher.
English Exam Preparation
0% 0 Reviews
This course is for students aged: 16-70
Exams and Prep offered: Cambridge FCE, Cambridge CPE, Cambridge CAE
IELTS Preparation
Entry level: 4–9/B1–C1
Lessons per week: 20/25/30
Duration: 2–52 weeks

A combined IELTS course is aimed at students who want to enhance their general English skills as well as prepare for the IELTS exam.
The IELTS exam has a very specific format with in-depth instructions and a complex scoring system. For students to achieve a high score in IELTS, it is vital that they not only have good language skills but that they also understand the exam they will be taking. The afternoon component of a General Language/IELTS package ensures you have plenty of time to take practice exams and mock tests.

CAE
Entry level: 7/B2
Lessons per week: 30
Duration: 8–12 weeks
A CAE course at Eurocentres prepares students to take the Cambridge English Advanced Exam, a qualification recognised by thousands of organisations across the globe. A CAE course focuses on all parts of the Cambridge C1 Advanced exam. While this might sound demanding, officially testing at a C1 level of English or higher reaps multiple rewards - this exam is the ticket to study anywhere in the world, setting you apart from the rest when it comes to building an international career.

CPE
Entry level: 8/C1
Lessons per week: 30
Duration: 8–12 weeks
Get expert preparation for the Cambridge Proficiency (CPE) while gaining fluency and mastery in English and 21st Century Skills for contemporary life, studies and career. 30 lessons per week, including 20 morning lessons of language and skills improvement for the target level C2, 5 afternoon lessons of training in exam technique, and a further 5 afternoon lessons of guided exam practice. In the morning programme you will improve your English and 21st century communication skills and grammar towards a C2 level of proficiency required for the CPE exam, and in the afternoon programme you will learn exam question techniques to maximise
Tailor made English courses
0% 0 Reviews
This course is for students aged: 16-70
Weekly Hours: General 15-25 hrs/wk, Intensive 25+ hrs/wk
Levels: Intermediate, Basic, Upper Intermediate, Advanced
Class Sizes: Medium, 6-10 students, Large, 11-20 students
Location Type: Rural/Countryside, University campus, Town/City
Open Choice Gap Year
The long-term study option that offers flexibility and diverse international experiences.
Entry level: 0-9 (A1-C1)
Lessons per week: 20/25/30
Duration: 24-48 weeks

For bookings of 22 weeks or more, you can choose to change your school, course, or destination every 12 weeks. This provides flexibility and diverse international experiences, as well as prolonged exposure to the language of your studies. While most students will enter into general language classes for their year, they also have the option to study other courses if these are available. General language classes take place in the morning, and students enrolled on a language year programme can also add two afternoon classes a week to their schedule. This makes a total of 25 lessons a week, with the afternoon classes focusing on developing global citizenship through contemporary topics and themes.

Flexible options: You choose where, what, and for how long.

More travel opportunities: Add an adventure to your studies.

Long-term commitment to study: Show future universities and employers you've got what it takes.
Brochures
Reviews
This school hasn't been reviewed
Get Price